Fiverr
Fiverr, if you never heard of them, is a website that allows you to sell your talent or talents for an income. For instance, are you a creative writer, SEO guru, design artist, website creator, or do you have talent as a voice-over artist? Fiverr service providers are freelancers. Freelancers or Freelance workers are the persons who are self-employed and do not necessarily commit to a particular employer in long-term. That means once you completed your service, you are not moreover allocated to the buyer.
Then you can make money as a seller on Fiverr by providing your unique and talent-driven services to people and businesses whoever needs them.
Getting Started
To make money on Fiverr you will have to learn  to do creative things online. It is better that you specialize in one thing to begin with. Try to learn as much as you can about one specific thing and become an expert. Whether you want to write, create logos, seo, web page design or whatever interest you and that is something that is needed by other people and are willing to pay you.
Companies are so busy running their business that they will pay freelancers to do things they don't have time for. There is definitely a lot of ways to make money with Fiverr and here are some  steps to take, so you can become successful on Fiverr:
#1:  Decide what you want to sell. What products or services can you offer others relatively quickly and for a low starting amount (think $5 per gig)? Ideally, you want to come up with something unique so that you have less competition, but any skill that you have can easily be sold on Fiverr as there are lots of buyers available.
#2:  Sign up for an account. You can create a Fiverr account using your email address, Google+ account or Facebook to sign in. You just have to confirm it and then you are good to go.
#3:  Set up your profile. Once your account is created, you want to set up your profile, which means uploading a picture and telling Fiverr a little bit about who you are.
The consistent theme across this platform seems to be that less is better. So, you're going to want to be as clear and concise as you can in order to fit all of your content in. Be straight and to the point or you're going to be cut short. Also make sure that you use a professional looking photo for your profile picture (or your logo), you don't want to scare away potential buyers.
#4:  Verify your idea. But before you start creating your first gig, make sure that your idea is worthwhile. Go on fiverr and search for similar gigs. Make sure that there is a demand for similar services like yours. Type your keywords and see if you can find at least 3 gigs that have more than 500 reviews and more than 10 orders in queue. If you find them, then good, this means that your idea is in high demand and you can make real money with it. Now let's proceed with creating your gig.
#5:  Create a gig. Click on "Start Selling" under your profile and create a gig, which is another name for the service or product you want to sell. We will break this step into smaller steps that need to be taken in order to build a bestselling gig.
So let's start with your gig title. You only have 80 characters for your gig title, so use them wisely.
Fiverr even tells you that short titles sell more, so heed their advice, also it is very important that your title clearly describes what you offer; don't use confusing titles, because this will bring you a lot of angry buyers.
Next you want to have a very appealing and competitive gig samples.
Again make sure to take a look around Fiverr in order to see how people represent their gigs. Use this for inspiration and also for a reference how good your gig should look. If you can make it look better and more appealing than the other gigs that are already available, then great.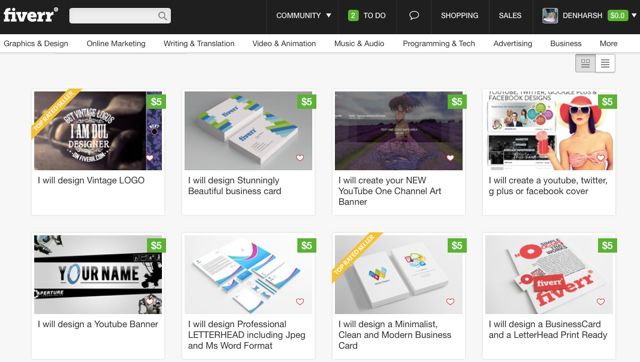 If you are not a graphic designer consider hiring one from fiverr who can create you cool images to represent your gig.
After you are done with your samples you should continue with the gig description. Make sure that you use the formatting options that fiverr offers, so it can be easy to read and highlight all the key points. Explain your service in detail, what you offer for 5$ and what you offer as an extra. Look at your description as a contract with the client that defines your service.
Next it is recommended that you upload a video. Gigs that have a video tend to gain popularity more easily, because they get a better placement in the search results when they are published. You can simply record yourself explaining your service, also don't forget to mention the phrase "this gig is exclusively on fiverr.com", and make sure that your video looks professional and you don't have your bed in the background or something embarrassing.
#6:  Promote your gig. Fiverr makes this step super easy as well as once you have all of the information they are requesting, you can publish your gig via social media buttons before even leaving the page. They have one for Facebook, Twitter, Google+, LinkedIn, or via email. All you have to do is click the one you want and they will tell the rest of the world (or your followers anyway) about your brand new service offering!
Also make sure to optimize the keywords for your gig. It is better that they match the title of your gig, because this way they will have greater impact. Just like I recommended in the "YouTube" section use the Google Keyword Planner to determine the best keywords for your gig.
#7:  Provide GREAT customer service. Because Fiverr allows the buyers to rate you, you're going to want to be a true professional to them so that you get a higher score. Of course, you can't always please everyone, but the happier your clients are overall, the more work you'll get and the more money you'll make. There is a golden rule to Fiverr long term success "Just over deliver". Make sure that you surpass your buyer's expectations. You can do so by applying a simple trick.
For example if you are a writer and you want to offer to write articles, the usual word count for 5$ is between 300-500 words. If you are ok writing 500 words for 5$, you can offer in your gig 400 words for 5$, but always deliver around 500. This way the clients will be very pleased with your service and will come back.
Sometimes you will meet some bad buyers of course. Then you have to put your long term interests over and above your short term losses. They will be more demanding and pays less. Let a bad client go professionally and respectfully and focus on your good clients instead.
Also never try to please a bad client, because you don't want a bad returning client.
#8:  Learn from other Fiverr sellers. One of the best ways to learn is to mirror what others are doing on Fiverr that seems to be working for them. Dion appears to be one of the top sellers, so you might want to check him out and see what he can teach you about what it takes to be a top seller like him!
Earning Potential 
You must start out at $5 per gig, be on the site at least 30 days, and complete a minimum of ten orders in order to start making real money on Fiverr. But if you are fast at what you do, you can earn a decent amount of spending cash off this particular site as long as you're comfortable working on a number of different projects in order to do so.
Some Fiverr members have reported earning hundreds of dollars a day, which is possible as long as you get a lot of gigs as a top seller or are able to sell add-ons. I make around 2,000$ a month from Fiverr with for about 50 hours a month. This requires quite a time commitment to achieve, but it is possible if you're good at whatever it is you are selling and can get a lot of buyers to want your services.
Fiverr is famous as a platform where quality workers can be found for the low price.

Thus above reason, there're always lots of BUYERS.

Those buyers usually purchase because they know they spend a little compared to other freelancer networks.

And most of those buyers are looking for quick results. They usually don't wait weeks or research intensively before purchasing the mythological "perfect" gig.

Therefore, those may be ending up buying your gig.




Keeping buyers aside, Fiverr is a simple network where EVERYONE can start a gig today without spending hours.

You don't need prequalifications to start a gig on Fiverr.

You don't face exams or tests.

Lots of ways to increase your revenue besides offering different pricing tiers.

Lots of ways to make money on Fiverr (No an exact formula for gigs. You can advertise any sort of skill, capability and make money.)
Here are 3 reasons why you should start on Fiverr.
It's Quick: You may not have the idea to make money through freelancing forever. You may be looking for a way to collect some money for your college fees, studies or even spend your weekend evening. Fiverr is the best solution for you. No commitments, no hassle and even not here or there anyone to bother you.
Raise fund for your future: Money is an issue, for sure. It's an issue everyone in the world suffers. With Fiverr, you can make an extra cash per month without moving from your home. That cash can be saved for your future projects or businesses.
Find money for new business: One universal instinct in every entrepreneur is, they'd like to move forward, not step down or be stabilized. I see most Fiverr freelancers start their Internet marketing journey and then move forward with their plans for bigger projects such as starting an own blog, own online school, build an email list to promote affiliate stuff and creating own products or even sell own services solely.
Now as you know Fiverr is the best place for you to start your internet marketing career as a novice, let's find out best Fiverr gig ideas to make money online fast. These are some great ideas to start making money with Fiverr.
Thanks For Reading,
MoreMoneyAffiliate