How to Make Money Writing As A Freelancer – 8 Ideas to Get Started
If you are anything like me, then you probably never thought of yourself as a writer. But, if your'e reading this post is because your trying to find different ways to make money writing. Chances are you already have a blog going or have a regular 9 to 5 and are just looking to supplement your income, whatever the case their are certainly great ways of making money in content writing or in different areas of online marketing.
The one thing every internet writer or freelancer is thinking is – how do I make money writing?
A lot of writers earn a very reasonable active income and work full time as freelance writers. Making the choice that you want to go pro is very easy, but at some point, you would have to make a decision to be typing thousands of words daily to achieve the life you dream of.
It is crucial that if you're going to join the train of professional writers, following the steps in this article can definitely help  you achieve an active or a passive income doing what you love.
Years before, there have been myths about writing online, some of these myths discouraged people from doing and earning not much or anything from what they love. Let's look at 4 myths about writing that are not true.
Myths about Writing and Earning Online
It is impossible to earn money on the Internet – this is not true as to so many writers, make money by writing online.
My writing skills are average, so contractors won't hire me – this is false, you can start out as an average writer then grow to be a professional writer with time. The only downside is that you earn lesser but enough being an average writer.
You can earn money but not enough to quit your job – this is a fallacy, it might be through a while back, but with the rise of the internet, most writers now make a living earning writing online.
You can't get wealthy with freelance writing – this is a myth spread around by people who actually haven't accepted the fact that the world has evolved. Most freelancers earn about $100,000 upwards to $300,000 a year just from writing online.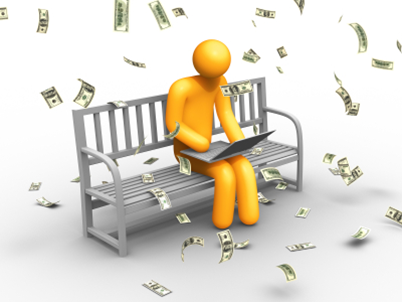 How to Start Making Money Writing Online
Before we jump right into the steps on how you can make money writing, it is essential to know that this takes determination and dedication. You have to decide that you want to make money and work towards it. This is going to help if you really have a writing as a passion and hobby. With that cleared, let us get started on ways to make money.
1. Writing A Blog
One of the easiest ways of making money writing is by writing on your own blog. This makes you a boss of yourself thereby making you flexible at what you do.
The first step is to find a niche – deciding whether your blog is going to be an evergreen niche or a micro niche blog is the first important step.
Secondly, you get keywords for your niche blogs to optimize it, thirdly you create your blog and lastly you start your writing.
However, this is not totally that easy as to running out of ideas as you progress along the line. Finding blog topics depends greatly on your niches, there are websites which give ideas on what to write (you can google them). Some of the things you can write on your blog include:
Interviews
Reviews
Tutorials
Life Experiences
Daily Life Hacks
Posting a Comedy
Writing a Song
Hosting a giveaway
Other websites tend to generate topic ideas for you when you insert various keywords in them; websites like hubspot.com does this very well. You just put in your keywords and voila! A very nice structured topic comes out.
What you need:
A Blog
Keywords
Blog Development Tools
An Adsense Account For Earning
An Affiliate Account For Also Earning
How to make money after writing a blog?
This is where the tricky part comes, after developing your blog to a reasonable traffic zone, you now start finding ways to make money on it. There are several ways to do this, but I am going to go about it in 3 ways:
1. Using Google AdSense – Google has made it possible for turning your blog traffics into a stream of income. This is the most common and colossal way of benefitting from your online contents. Monetizing your blog gives way for Google to place ads on your blogs which in turn pays you for the space used. If your traffic is reasonable, you can then sign up for an AdSense account. This gives Google the approval of analyzing your blog and hence when it is approved, and you can then install the HTML coding to display your ads.
2. Affiliate marketing – Another way to earn huge from writing online is through affiliate marketing. To a layman, this is the process where you are paid to advertise a product for sale. Once the product is sold through your link, you get a percentage share of that product sold. There are so many affiliate platforms out there, from Clickbank to Clickpromise to ShareASale, and other popular online stores like eBay and Amazon affiliates.
3. Direct placement of advertisements – if your blog has a huge amount of traffics, you can get proposals from companies/top individuals to personally put up their adverts on your blog. This pays directly huger than using Google AdSense, but it is tough to come by.
Other ways include selling merchandise to your readers, conducting classes or tutorials, blog subscriptions, etc.
2. Writing as an Online Contributor
Another way to make a few extra bucks is by posting on other blogs while getting paid. Most blogs offer payment for guest posts, but each post is scrutinized for maximum accuracy, so research thoroughly before you post. These blogs also monetize their blogs, so if you post your articles or write-ups, they give a percentage of the money to you.
In this situation, this is a win-win achievement as to you are paid as a contributing writer while the blogs get your valuable information. Websites who offer these services are spread across on the internet. Some of these websites are:
Smallteaser.com
Makealivingwriting.com
Medium.com
Techcrunch.com etc.
3. Writing an E-book or a Cover book
As a writer, this is one of the ways you can earn or even be noticed. The world has been so digitized that any single thing can be read or downloaded through the internet. So why don't you write a book out there and put it up for sale?
The most exciting thing about writing an E-book is that materials and publishing fee is not used or less likely. This makes you cut down on cost and earn more. If it is a hard or soft cover book, you can sell it on any online platform trading books.
I know most of you are asking, "what am I even going to write about?" well, there are so many genres of books out there.
Most of them include – fiction, non-fiction, horror, romance, poem, etc. most of the times, you can even try to mix things up a bit by joining two genres like horror-fiction, horror-comedy, comedy-romance, etc.
After deciding on what to write about, comes the research. You can research and get ideas or storylines by looking at successful E-books out there, research on websites that give E-book advice or talking one on one with real-life authors.
I am not saying you should go out there to copy other people's story, but create a unique one – originality is the key.
Selling your Books Online (E-book and cover)
Most people find it hard to publish their E-books online. There are a series of free websites that are glad to do that.
These websites collect a fraction of the money on each book sold as payments for using their platforms.
Some of these websites include:
Amazon.com
Lulu.com
Tradebit.com
Smashwords.com
Payloadz.com
Bookbaby.com etc.
4. Writing and Selling Short Stories
Short stories are stories with fully developed themes but are shorter and more elaborate than novels. They are mostly fictional stories that can be read in one sitting which contains self-contained incidents with the intent of mood creation rather than plot.
This type of writing deals with only a few characters and only comes from a single perspective.
Before going into this type of writing, it is best to know what constituents a short story, so I advise you research a bit more.
Where to sell a short story?
Most magazines and websites online pay a lot for these types of stories. Some of them include:
BWR or bwr.ua.edu
carvezine.com
pshares.org etc.
5. Make Money by Writing Articles
You can earn money online while writing articles. This can be about anything depending on what you are good at or the niche you are good at. Creating articles is one of the superpowers of a writer and people needing those articles are the advantages you have.
You can create content for a client that gives you instructions or specifications through certain platforms you were hired. Some of these platforms are:
Upwork.com
Fiverr.com
Guru.com
Sometimes, as a freelancer, you just feel the need to create content without instructions or specifications. On the other hand, you can create content for a client that gives you instructions or specifications through those platforms you were hired, and most clients either reject your jobs or end the contracts before submitting.
Do not fear; you can still market those articles through these platforms:
Constant-content.com
Articlesale.com
Dotwriter.com
Hubpages.com
6. Writing a Product Review
This is an easy way to earn money; the reviews mostly influence most purchases made on the online store so producers and marketers will pay you just to put a word out there to recommend their products being bought.
Most reviews are made on Amazon or traders pay to make a review on your blog, giving you the link to advertise on your website.
Most places where you can be able to sell reviews are:
Fiverr.com
Upwork.com
Vipon.com
7. Writing Poems
Writing poetry is a form of literature, which expresses feelings and ideas with so much intensity, so as words or language is used aesthetically and rhythmically. For you to go through this type of writing, you have to know the fundamentals of poetry.
Currently, poets find it difficult to market or sell their works to willing buyers, but I will show you various ways in which you can sell your masterpiece to willing buyers. Platforms you can sell your poems:
The Sun Magazine
Poetry Foundation
AGNI
Blue Mountain Arts
Fiverr
You can also piece together your Poems into an E-book, and sell it off on Amazon or Kindle
8. Making money Writing Fanfictions
Fanfiction is fiction about characters from already written or already made characters from an original work of fiction created by its fans rather than the original creator. In simple terms, this is taking an already famous cartoon or movie, etc. then using their characters to make your own story or your own masterpiece.
Fanfiction was illegal to publish back in 2013, but a whole lot of websites are now allowing publications and even selling of fanfiction works. These include:
Amazon.com
Lulu.com
Fanfiction.com
Wattpad.com
Tools to Help You when Writing
As a writer, you cannot be perfect, that's why some tools were created to assist you when you write to help you achieve certain things or prevent drastic errors. Most times, errors are a huge turn-off in websites, ie. Visitors tend to get irritated by poor grammar skills. Below are some of the tools that can help you when writing:
1. Grammarly
This is very useful for bloggers and writers. This is an AI-powered tool that tends to identify grammar errors and help you correct them by suggesting other options. This is mostly useful if English is not your strong foot. It has a paid and free version, in which there is also a plagiarism checker attached to it. I highly recommend you use this while writing.
2. Ginger Software
Just like Grammarly, this is an automated platform that helps you write better English, and effectively corrects your text if any errors are found. The company claims it uses patent-pending technology, which makes it look like a human reviewer is working with you.
How to Research Topics and Ideas while Writing
Researching a topic and ideas can be very hectic and time-consuming, that's why these platforms have made it possible to lift the load off your neck by helping you achieve the best ideas and topic for your writing piece:
● Buzz Sumo – this is a powerful online tool that allows writers find what content is popular by topic or any website. This platform helps you provide what people want to know. This tool can take a very long time scanning sites, probably hours helping you to find your competitors and to give you insights on what people are looking for.
● Built Visible – this platform, makes use of SEO optimization to help its users gain visibility on the internet platforms. They help target, the best audience for your publication by helping you build engaging blog posts, articles, and contents.
● Ahrefs – this is one of the best tool sets for SEO and backlinks. In other words, this tool helps you learn from the best websites directly by analyzing it. It makes use of a sophisticated website crawler, to recreate the way search engines see websites allowing you to see the complex networks of incoming links and produces a report about it.
Final Thoughts
Going through this post, I hope I was able to let you know of some ways of making money writing online. You may start out slow, earning few bucks along the line, but surely with hard work, and passion put into it, you can be able to make a full-time income just writing articles while working at the comfort of your home.
As a writer, I feel sad when I see people earning nothing or less, not making much to support their daily lifestyle. This should not be the case anymore if you put into action what you have read today. I hope you enjoyed this post, please tell me what you think about this in the comment box.
Thanks For Reading,
MoreMoneyAffiliate